Most of my crew love carrots, as long as they're cooked.  I think they are a tad too crunchy for little mouths.  Anyhow, they also add a really nice sweet touch to soups, stews, stir-fries, and casseroles.  But – the only draw back is that they take so long to cook – right along the same lines as potatoes.
And, as most good recipes are discovered, so was the Fried Rice I'm posting tomorrow.  I had only a few veggies left in the crisper – so carrots it is!  Now, I truly do believe in the use of Microwaves for just about anything except carrots.  They kinda get shriveled up if you overcook 'em.  My latest re-invention: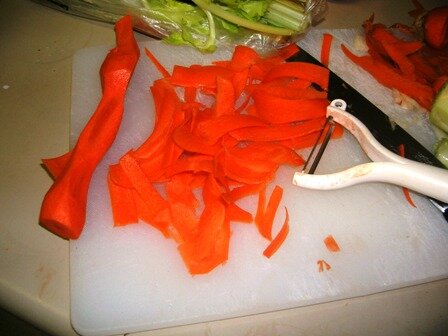 The carrot peels cooking method(without the peels, er…). 
And they were the perfect amt of crunch, and yum!  If you shred them, you could even be sneaky about your carrot-adding wizardry.
Here's to health,
Cathy