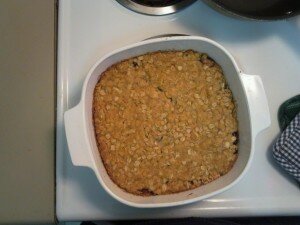 The following crumb topping is absolutely diving with a middle layer of leftover cranberry sauce.   If you want an extra dash of flavor add a little cinnamon.  You can use any pie filling in the middle, frozen berries or jam.
Ingredients
1/2 cup leftover Bob's Redmill Pancake mix
1/2 cup gluten free flour mix
3/4 cup brown sugar
1/2 cup margarine, soft
1 1/2 cup gluten free oats
Directions
1.  Combine all ingredients until crumbly.
2.  Press a generous 1/2 into bottom of 9×9 baking dish.
3.  Use leftover cranberry sauce (3/4 cup – 1 cup) spread over crumb.
4.  Sprinkle remaining crumbs on top. Press lightly with palm.
5.  Bake 350 for 30 min.