These turned out PERFECT. The trick, as far as I'm concerned is to have little learners watching over your shoulder. When explaining how to measure 1/2 a cup, you can't just grab the closest coffee mug and measure out about half a cup. We got out the measuring cups (the real ones provide a great math lesson. How many 1/2 cups make a whole?) and even used the back of a table knife to scrape off the top – they've seen me make cookies often, but the knife thing was new. We guess how many tsp make a Tbsp. We had guesses 4 & 5. Turns out I was made to teach math – to Kindergarten'rs.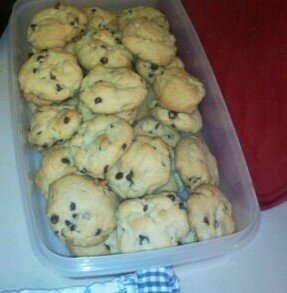 This recipes is direct (with knife-smoothing measurements) from the Big Red cookbook. We took out a little sugar and used white rice flour instead of the brown rice flour.
| | | |
| --- | --- | --- |
| Gluten Free Chocolate Chip Cookies | | |
Recipe Type:
Baking, Cookie, Dessert
Author:
Absolutely perfect – soft, golden edges – and completely gluten free!
Ingredients
1 c packed brown sugar
1/2 c granulated sugar
1 cup butter, softened
1 tsp vanilla
1 egg
2 1/2 cups white rice flour
1/4 c cornstarch
2 Tbsp tapioca starch
1 tsp xanthan gum
1 tsp b. soda
1/2 tsp salt
1 1/2 c mini choc chips
Instructions
Heat oven to 375 degrees
Beat sugars, butter, vanilla on low until well blended.
Beat in egg until light & fluffy.
In small bowl measure(properly) all dry ingredients except for choc. chips.
Add dry to butter mixture, and mix.
Add choc chips. Blend.
On ungreased cookie sheet, drop heaping tablespoons 2 inches apart.
Bake 8 – 10 min until lightly golden. Cool 1-2 minutes. Remove to rack. Cool completely. Seal in air tight container right away to preserve freshness.
Enjoy!