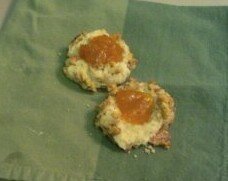 These delicious thumbprint jam cookies are based off of the Big Red Betty Crocker cookbook. Mine were too crumbly so I've added another egg to this recipe – let me know how they turn out!
Author:
Yummy gluten-free version of the traditional nut-rolled thumbprint cookie. Filled with sugar free jam, these aren't too bad sugar-wise.
Ingredients
1/4 cup brown sugar
1/4 cup shortening
1/4 cup margarine (not low-fat)
1/2 tsp vanilla
1 egg
1 egg, separated
1 1/4 cup gluten free flour blend
1 tsp guar gum
1/4 tsp salt
1 cup finely chopped nuts (we used walnuts)
6 Tbsp jam, any flavor (we used sugar-free apricot)
Instructions
Heat oven to 350degrees F, spray a cookie sheet with cooking spray.
Beat brown sugar, shortening, margarine, vanilla, egg and egg yolk with blender until mixed well.
Combine flour, guar gum, salt. Stir into wet ingredients.
Beat egg white until slightly frothy.
Shape dough into 1 inch balls, dip into egg white, roll in crushed nuts. Place 1 inch apart on cookie sheet.
Press thumb into center of each cookie. Cook 8 minutes. Quickly remake indentations if necessary. And remove to rack to cool.
Fill each thumbprint with about 1/2 tsp of jam.