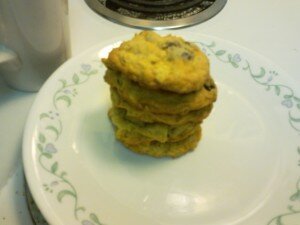 I have about 5 Oatmeal Raisin Cookie recipes in my recipe binder that I've tried to edit into gluten free goodness.  Frankly I just didn't think that any gluten free recipe would be as good as MINE.  But alas, I have't quite perfected that elusive chewy and crisp on the outside Oatmeal Raisin Cookie.  And after several flopped batches, I loose my motivation to keep wasting expensive gluten free oats!  Today Mike isn't feeling well, and Oatmeal Raisin Cookies are his favorite, so I gave in, and searched for a GF recipe.  I've actually tried a couple GF oatmeal raising cookie recipes from my cookbooks but I haven't had any that are truly blog-worthy.
UNTIL NOW
Here's the recipe from Girl Cooks World, modified to use margarine instead of butter & shortening.
ENJOY!
Ingredients
* 1 cup margarine
* 1 cup brown sugar
* 1 cup sugar
* 2 large eggs
* 1 teaspoon vanilla extract
* 2 cup flour blend
* 1 1/2 teaspoons baking powder
* 1 teaspoon baking soda
* 3/4 teaspoon xanthan gum
* 1/2 teaspoon salt
* 2 1/4 cups gluten-free oats
* 1 1/4 cup raisins
Instructions
Preheat oven to 350 degrees. Lightly grease a cookie sheet or line with a Silpat baking mat.
Beat butter, shortening and sugars until well combined. Add the eggs and vanilla extract and mix until smooth. Add the flour blend, baking powder, baking soda, xanthan gum and salt and mix until thoroughly combined. Add the oats and raisins and stir until well incorporated.
Drop heaping teaspoons into the prepared baking sheet. Bake for 10-12 minutes, or until the edges turn a light golden brown. Remove to a wire rack to cool completely.
2012 Strawberries Are Gluten Free