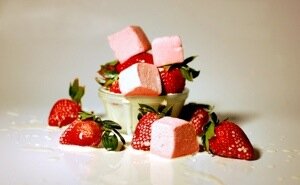 A couple of nights ago on the way home, I noticed what looked like a black plastic garbage bag sitting in the middle of the road. As I was cursing the evil-doer that was fouling up our neighborhood, the bag hopped away! Turns out it was one of the many bunnies that inhabit (some would say infest) our lovely Pacific Rim city.
Which brings us to today's post on Chubby Bunny Marshmallows. These bunnies won't lay waste to your garden, or leave little droppings as reminders of their passing, but no promises on what they will do to your waist!
I can tell you the sample the company sent us was so delicious it was inhaled practically before the delightful wrapping was removed. A tasty treat indeed. Our favorites were the strawberries and chocolate, and there were many more delicious flavours. Most are gluten-free, so theoretically I should have been able to taste them all, but as it turns out, the girls got to them so fast I only got to sample a couple myself. (The reviews from the girls were equally as rave)
Check out Chubby Bunny Marshmallows (Flash required) for more details.