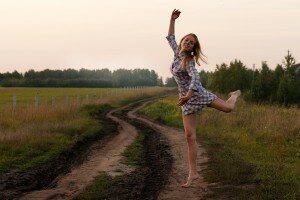 [Cathy: Stress and anxiety are parts of living.  And with the fast pace of our lives, it is more-so than ever before.  
Add to that unhealthy lifestyles full of office jobs, chauffeuring kids around (on our rumps), cheerings kids on (on our rumps again), cooking something that fits into everyone's schedule (half-prepared at best, fast-food drive through on 'those' days) and we have a recipe for disaster... a slow physical/mental/spiritual health head-on collision.
Although I haven't written much about my own collision of 2012 it was a biggie. And Ryan of CalmClinic.com contacted me awhile ago about letting you know about a resource he's put together.
He's not a doctor so as with most information from the web - it is for your information only. But I think it provides a quick, easy-to-navigate and truthful resource on options when the stress/anxiety of life is actually impacting your quality of life and ability to function. ]
——————————————————-
Going through life and having to deal with stress and anxiety along the way can make everything so much harder. Most of the time, we choose to just live with it instead of acting on it. Sooner or later, we will feel its negative effects on our health. Constantly being stressed and anxious will do no good for your mind and body. That said, consider getting anxiety treatment, but go for one that you can do on your own. It's quite simple: live a healthy life and see how it can help you deal with your problems.
Eat healthy
People tend to forget that there is an easy and natural way to combat stress and anxiety – that is to eat healthy. Most of the time, people choose for quick fixes like binge-eating or drinking, just to make themselves feel good when they're down in the dumps. Why waste your money on these activities when you can choose to spend it on things that will benefit both your mental and physical health? Start eating right and see how it can help you feel better about yourself. The fulfillment of doing something good for yourself will ease those feelings of worry and frustration, so it's high time to get around to doing it.
There's nothing wrong with indulging yourself when you feel blue, and you can always do it occasionally just to lighten your mood. Still, I personally found that the best solution to your anxiety problems is following a pattern of eating healthy by getting the right kind of food, nutrients, and servings on a regular basis. It did wonders for my mood and my energy, and I started feeling better. Invest your efforts in making it a habit and see how it can change your life.
Exercise
When we're stressed or anxious, we have all these pent-up emotions and energy (often negative) that we just have to release. One of the best ways to release this energy and turn it into something positive is through exercise. I found that exercise not only allows you to clear your mind when you are fighting off all those ill thoughts, it also lets you relax and let go of all your emotions for a while as you concentrate on getting fit and healthy.
Go for a jog, take your bike out for a ride, or go to the gym. If you're feeling feisty, take up boxing or a mixed martial art. Try out anything that you think will do you good both physically and mentally. I was able to get rid of those negative feelings by channeling my energy into something that will get my body moving, so that I didn't have much time to wallow in it. Exercise regularly and give yourself a schedule. Follow it and track your progress. Not only will you feel better and lighter mentally more often, you will also notice the positive effects on your body physically.
You owe it to Yourself
People sometimes forget that their best option in combating stress and anxiety are actually habits that they should actually be doing in the first place. Start eating healthy and living healthy and see what it can do to help ease your worries and frustrations. You owe it to yourself to eliminate the negative energy to be able to function better, so make it a point to eat right and exercise. You will slowly be able to shun those ill thoughts and start seeing things in a new light.