Note from Cathy: I'm really excited to introduce Dr. Andrea Purcell, ND. She's a certified Naturopathic Doctor in Arizona and California with tons of specialties and certifications to help you get healthy. Her website is linked below. And her first post here is so relevant! I'm a total sugar addict… in fact even if a carb is too soft or gooey I'm unable to put the breaks on – sometimes for days. Here's a great reminder and healthful tips for all of us:
——————————————————————————————————
It's that time of year again when we sweep out the old and sweep in the new. For many people that includes a renewed commitment to health. This week we are having a discussion about Sugar.
Over the last thirty years, we were led to believe that fat consumption was the reason we gained weight and developed heart disease. Do you remember the "fat-free craze?" It seemed that suddenly every product on the shelf was "fat-free" and we all bought them, including myself, "Well of course I would like the fat-free version, that would be healthier right?" During those three decades, fat got a bad reputation and we welcomed anything onto our plates that was low fat or fat-free.
Unfortunately, we are now experiencing the backlash of going "fat-free". The American population is struggling with obesity more now than ever before. Heart disease is still the number one killer in the United States and more of us are developing diabetes each year. We really didn't understand the difference between good and bad fats, and the role that sugar plays on our health.
All food is broken down into fat, protein, or sugar in the body. Knowing this it then makes sense that if we remove the fat from a product we would increase either the sugar or protein content. A good example is frozen yogurt. Most frozen yogurt available is either low fat or fat-free. This is because the public thinks it is a healthier choice than ice cream and consumption is up. By reducing the fat content in yogurt, the sugar content is increased.
Weight gain, heart disease, diabetes, fatty liver, high triglycerides are all the result of excess sugar in our systems.
Excess sugar in the body is handled in one of three ways:
Converted into immediate energy
Stored in the liver
Converted to fat
There are three main types of sugar in our diet.
*Fructose – natural sugar found in fruit, corn, and refined into high fructose corn syrup.
*Glucose – sugar found in grains, and some fruit
*Sucrose – white table sugar (which is a combination of glucose and fructose)
All sugar has adverse effects when consumed in excessive amounts, and some people are more sensitive to its effects than others which can result in one person eating a few servings of fruit a day on a healthy diet and losing weight and another not losing a pound.
When we eat sugar it sends our insulin levels soaring. Insulin, produced from the pancreas is called the fat-storing hormone because it decides if food will be burned as fuel or stored as fat. High insulin levels have been linked over the last 25 years to heart disease and type II diabetes.
For many women, the key to losing weight is controlling your insulin. By reducing or eliminating the foods that spike your insulin, you train your body to burn off your stored fat for energy.
Some people think only those with diabetes need to keep tabs on their insulin levels, but high insulin levels can have negative effects on everyone's health.
Here are some food changes you can make to help keep your levels in check:
Reduce sugar and refined carbohydrates. High insulin levels= body insulation. Insulin is the fat-storing hormone. Eliminate foods high in sugar to prevent insulin spikes.  This includes, white sugar, high fructose corn syrup, honey, molasses, refined carbohydrates. Refined carbohydrates turn to sugar upon digestion, such as white bread, pasta, and rice. Choose whole grain carbohydrates, beans and lentils that are lower on the glycemic index. This is especially important if you have a family history of diabetes.
Fruit and vegetables can be filling due to their high water and fiber content. It also takes longer to chew these items leading to a feeling of fullness. Remember, fruit is broken down into fructose so I recommend eating more vegetables, and sticking with the low glycemic fruits for weight loss. (Apples, pears, berries, cherries)
Eat foods that contain good fats and healthy protein. Both fat and protein help to balance sugar spikes in the body. Fat does not make us fat!
Healthy fats are found in nuts, seeds, avocado, flax, chia, olive oil, grape-seed oil, fish oils, and raw coconut oil.
—————————————————————————————————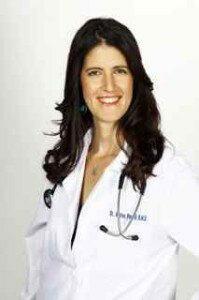 Andrea Purcell, NMD
Andrea Purcell, NMD has a Bachelor of Science in Environmental Science from the University of Massachusetts at Amherst. She received her Doctorate of Naturopathic Medicine from Southwest College of Naturopathic Medicine and Health Sciences a premier accredited four-year medical institution that specializes in the advancement of integrative medicine.
Dr. Purcell is licensed as a natural medical doctor in both Arizona and California, who specializes in natural integrative medicine.
Dr. Purcell is a certified practitioner of the Blood Type Diet, the Wiley Protocol, Ozone Oxidative Therapy and Wilson's Temperature Syndrome thyroid protocol, and is recognized as a metabolic specialist in anti-aging and medical nutrition.
She has just published her latest book, Feed Your Cells! A healthy gluten free cookbook.
Dr. Purcell has created a unique on-line portal that allows people to help themselves through her Health Self-Help programs. She can be found online at AskDrPurcell.com.