This is Stephanie's story. She's a great friend that I met at Salsa this summer. She happens to be someone that I admire for her lifestyle choices. Here's part of her story… leave her some love in the comments!!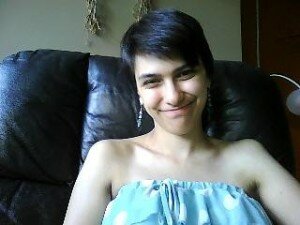 My adventures with food started very young – my father was always convinced that we were useful as children in the kitchen. I have very vivid memories of peeling potatoes, making pies, rolling cinnamon buns, picking our own tomatoes and snap peas with my father. Most of my taste buds were complimented by my mother's strong sense of culinary adventure – rice pasta, soy milk, couscous, and spaghetti squash were some curious foods she had exposed me to.  Both parents would take my sister and I to local farmers markets and rarely would we be in a large scale supermarket. Neither agreed with large stores for food – my mother supports local butchers, my father supports local produce markets for his berry-based pies.
It wasn't until I hit seventeen that I had truly started questioning my own diet, my father and I were based on a half sugar half meat philosophy. When I had participated in a national youth service program to leave home and saw most of my country, I then learned about where things came from. The program encouraged us to eat differently – vegan, vegetarian, carnivore – since all of our group members had different eating habits. We also spent time on farms helping with livestock and on farms where produce was farmed to give us perspective on the origins of ourfood. Eventually, I started cutting out meat piece by piece – my last "meat meal" was a Kosher lamb stew by my Jewish billet family and started using mock meat alternatives.
I started living on my own with another vegetarian and I learned what good there could be in colourful and whole foods. The bulk of our meals became rice-based and grain-centered as opposed to dairy or mock meat. It was there I established my salad defaults – mixed greens or spinach, cucumber, sweet bell peppers, peeled carrots, balsamic dressing. I eventually learned in time my trigger foods – cream-based dairy, occasional wheat, fake dairy products, onions and excessive ginger. It later on didn't surprise me that whenever I read about foods to avoid as an adolescent asthmatic or someone who has toddler established eczema – dairy, oranges, wheat. Trigger foods are common for everyone – foods that we eat that our body rejects by reacting to it – but individually they all may be different in terms of what they are. For me, I have always have had a battle with Canadian cow dairy and my feet itch when I eat it. For someone else, they might have an upset stomach when having garlic. For another, it may be having migraines after too much sugar.
It is now at the point in my life where I have been without meat for eleven years.  It's come to a point in my life where I am always noticing that my choices are always much healthier. I love being vegetarian but am relying on multivitamins and iron supplements. Like most things, this process is an evolution as it will be interesting to see what comes next and maybe it's worth thefood for thought.