CLOSED!
Thank you to everyone for entering the draw. Marcia won with comment #1 tonight!
Introducing A Conscious Box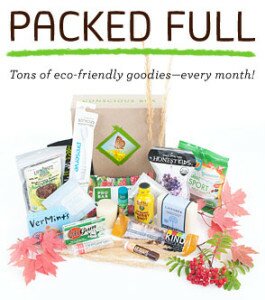 Totally new to me too. So here's the deal. Its a box. Yep. Just like that. This one comes to your door once a month, based on a subscription plan. It is full of an assortment of products and you get them without having to do anything. Seriously. (Dude! As my daughter would say.)
Why?
A. Lets you explore companies worthy of your patronage without having to do ANY research! Or shopping. Or leaving your pj's. These companies and products are all ethical and purpose driven (as opposed to financially driven), environmentally friendly, pure and natural.
B. Saves time – set it and forget it! Until the little box arrives, at which time you eagerly explore each item and hide the chocolate before the kids get home to claim it!
For example – MARCH – from the website: "In the upcoming box for March, you'll discover super-powered Spring boosts, delicious snacks and goodies, and useful tools and tips to help with spring cleaning projects."
Free Sample?
You'd think this would be a pretty expensive endeavor – but I was surprised to see that it is only $20/month! PLUS – for one of my readers – you can win a 3 month subscription! This is open to residents of the US only – sorry! (Next one's for CA too!)
To win:
Head to ConsciousBox.com and create a profile! When selecting a box, just select the Gluten Free selection (or Vegan)
Head to and tell them I sent you!! If ALL of you go there – I'll get a shout-out too!
Like and/or share their FB page as your conscience dictates.
Good luck!
Disclosure: I may receive payment or goods for my review. But all opinions are my own.