Gluten free chocolate cake MIX – can it get any easier?
And thus allow me all the time I need to play with the icing and make it adorable.   Frosting/ icing is almost always gluten free whether store bought or made at home.
Yesterday Emma turned 8 years old.
She has always been my sunshine.
Ever since she was born, she's the one that wants to smile.
She wants to laugh.
She sees the cup as half full.
She's sensitive and kind.
She has a beautiful soul that emanates kindness and compassion.
She's perceptive beyond her years.
And possesses stubborn streak that few get the privilege of meeting.
And on March 29, she turned eight!!
Gluten Free Chocolate Cake in Yellow Daisy Style
Gluten free Betty Crocker Devils Food Cake Mix
Whipped White Betty Crocker Frosting
Buff Icing tips
Buff's Colour Spray
mini marshmellows
Easter Bunny Cake
Next on my list of things to try: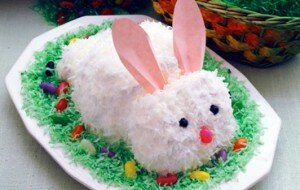 An Easter bunny cake by Life Made Delicious!  There are FOUR different bunny cakes you can try – all with cake mixes – all easy peasy!  Don't forget to visit LifeMadeDelicious to support this site, and to get tons of cute, easy recipes!
More Easter Inspiration:
If you're not on Pinterest yet – you should be!! Its heaven! Here's a pic of my easter board for your drooling pleasure:
.